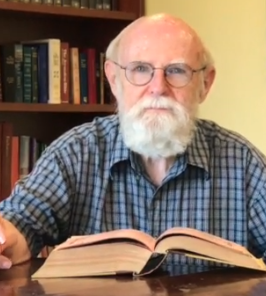 Who Was Steve Baker?
Steve Baker (1941-2022) was Monrovia's city historian for thirty years, and his love of its history and ability to recall it set him apart from his peers and made him the ultimate resource about the city's history. His life in Monrovia for most of his eighty years and refusal to own a television left him time to read, learn and wonder about our town's history. He painstakingly researched facts, answered obscure questions and documented the history of people, places and buildings.
He had read the authors of Monrovia histories so thoroughly that he could (and did) critique the accuracy of even the experts. His trademark graveside tours of Live Oak Cemetery were sometimes hilarious - ironic, given the venue. He could tell you most every death date for prominent (and some not so prominent) Monrovians without notes. And even though he was modest, the twinkle in his eyes revealed a hidden pride in his incomparable mind and talent for detail.
He gave speeches on local history in his signature top hat and tails to any group that asked, recounting stories of early churches, schools, businesses and people to rapt audiences. Steve was a fifth generation Monrovian, living in the house that his great great-grandfather had built in 1887 and which his great grandmother had moved to its current site to be closer to downtown (much easier than hitching up horses every time you needed supplies). As an adult, Steve slept in the same bedroom in which his father was born. He was a deep believer in social justice. His knowledge of Monrovia's early years of segregation led him to recount the unvarnished reality so that the truth was not lost. His respect for the role of women — as well as the more frequently cited men — important in Monrovia's history was revealed as he re-told the stories of Monrovia's founding 'mothers.' He had a deep religious faith and was a long-time member of St. Luke's Episcopal Church. He was a singer of ancient music (not the 1960s, but the 1500s) and was enthralled with period architecture and could identify the most minute architectural details, from Victorian to Mid-Century Modern.
Steve became Monrovia's City Historian in 1991 after his predecessor Myron Hotchkiss passed away in 1989. His was the source everyone went to and the last word when a fact needed checking. Steve had also been President of the Monrovia Historical Society since 1989. The Society was initially formed in 1979 to oversee the George H. Anderson House, a museum for visitors to experience 1800s family life. For many years Steve often kept it afloat by personally paying the utilities and filing the property taxes. As the years passed, the energy and age of the Society's board and members waned, and the organization itself also fell dormant.
But in 2015 it was reborn with the creation of the Monrovia Legacy Project. Steve had determinedly protected Myron Hotchkiss's collections, which Myron had left to the Historical Society upon his death. Those photos and documents became the foundation of the Legacy Project. Among the collection were photos passed down to Myron from his predecessors C.T. Renaker and the Woman's Club, rare photos Myron had borrowed, new photos he took of at-risk homes, and his many writings. Steve added to these his collections of books, photos, postcards and writings. Together they were digitized, stored archivally and put online by the Legacy Project team - Sandy Burud and Louise Robertson with Steve as the subject matter expert.
The Society was also brought back to life. A new Board of Directors was recruited, 501c3 status achieved and membership re-built. Overdue repairs at the Anderson House were begun. Steve was, of course, adamant that they be authentic.
The Historical Society was only one of the ways Steve gave his talents to his community. In addition to serving as the elected City Treasurer since 2005, he was also the president, treasurer or board member of a litany of local groups, including St. Luke's Episcopal Church, Historical Researcher for Second Baptist Church, Rotary Club, Citrus College Foundation, Monrovia Historic Preservation Group, Monrovia Historical Museum, Duarte Historical Society and Museum, Friends of the Monrovia Public Library, Friends of the Duarte Library, Monrovia Coordinating Council, Santa Anita YMCA, Monrovia's ChangeMakers, and a music group his sister founded, the Santa Barbara Revels.
We knew him as a pure Monrovian, but he had a sister Susan of whom he was no doubt very proud (a star in her own right), a brother-in-law Myron whose medical expertise Steve relied on, and a nephew Matthew of whom he was especially fond. Matthew noted that the outpouring of warmth at Steve's memorial service suggested Steve had so many facets, that perhaps it was only possible for any of us to only know part of him. We were surely lucky to know even a part. A remarkable life. A remarkable person. Sadly irreplaceable.